Filter by Category
Enrichment Programs
Circle of Security
with Daniel Resto

Feb 23, 2021 at 10:30 am
At times parents feel lost or without a clue about what our child might need from us. Imagine what it might feel like if you were able to make sense of what your child was really asking from you. The Circle of Security® Parenting™ program is based on decades of research about how secure parent-child relationships can be supported and strengthened.
Come and be part of this group of parents, led by Daniel Resto, which meets for One-Hour every week, to learn and discuss a different weekly video topic. This series begins Thursday, October 3rd.
Circulo de Seguridad
A veces los padres se sienten perdidos o sin una pista de lo que nuestro hijo podría necesitar de nosotros. Imagine lo que se sentiría si fuera capaz de darle sentido a lo que su hijo realmente le estaba pidiendo. El programa Circle of Security® Parenting se basa en décadas de investigación sobre cómo se pueden apoyar y fortalecer las relaciones seguras entre padres e hijos. Ven y sé parte de este grupo de padres, dirijido por Daniel Resto, que se reúne por una hora cada semana, para aprender y discutir un video diferente. Esta serie comienza el Jueves 3 de Octubre.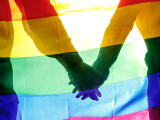 A Literary Discussion with LGBT Author Ms. Jean Copeland
with Jean Copeland

Apr 6, 2021 at 6:30 pm
Join award-winning local author and East Haven Adult Ed Creative Writing instructor Jean Copeland for a reading and Q & A of her latest novel, Spellbound, an urban fantasy, action romance. Jean is also the author of four other novels including her Goldie Award winning novel, The Revelation of Beatrice Darby and the Rainbow Awards Honorable Mention, The Second Wave. Ms. Copeland will have signed copies of her novels for $15 each or two for $25
Messages from the Other Side
with Jean MacDonald-Caprio

Apr 28, 2021 at 6:30 pm

, runs for 1 week
This class is how to communicate with your angels and guides to receive messages from your loved ones who crossed over as some people prefer to call it "Heaven" It is interesting to hear unique things that or guides enlighten us with our loved ones. This gallery style, sacred psychic circle is to honor and celebrate your loved ones. Each class is special and unique every time. nThis workshop is taught by Jean Macdonald-Carpio (Medium)  Please preregister as seating is limited.
One Evening Only
A donation of a non-perishable food item(s) to the East Haven Food Bank will be accepted.