Filter by Category
Financial Planning and Real Estate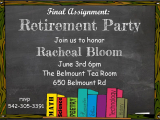 Connecticut State Teacher's Retirement
with Mark Church

May 22, 2018 at 6:30 pm
Learn more about preparing for retirement with your Connecticut State Teachers Retirement. Mark Church, of First Investors Group, will explain when you are eligible for your retirement benefits and explain the terms. The class will also cover your retirement benefit payout options which is the pension and annuity options as well as your beneficiary options. We will also discuss what you should be thinking about regarding your personal pension and Connecticut's current fiscal situation
Hello Retirement
with Mark Church

Mar 20, 2018 at 6:30 pm

, runs for 2 weeks
Retirement income only appears to the untutored eye to be about money. What it's really about are two things: securing dignity and independence in your retirement. We will discuss what you will need to plan for in retirement and what you need to understand about social security and other investments you have. The concern we must face in an environment of rising cost is... will I outlive my money? People dont plan to fail; they just fail to plan. Mark Church will cover how to take inventory of what you have and what you will need to prepare for your retirement when you are one year away, 3 years and 5 years away .
Social Security Planning I
with Mark Church

May 1, 2018 at 6:30 pm
Congress just passed legislation that will forever affect Social Security. Learn about the new changess and how it will affect your benefits. We will also cover what Baby Boomers need to know to maximize their retiement income. Learn the answers to your questions: "Will Social Security be there for me? How much can I expect to recieve? When should I apply for Social Security? How can I maximize my benefits? Will Social Security be enough to live on in my retirement years?" Mark Church, of The Principal Capital Group, will cover the different strategies to draw your Social Security benefit and how to get the most for yourself.