Filter by Category
Financial Planning and Real Estate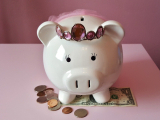 Retirement 101
with Alex Overkamp

Feb 7, 2023 at 6 pm

, runs for 1 week
A classroom offering that will teach you the foundations to a sound retirement. Topics to be discussed include: Income Planning, Financial Concerns and Preparing for the unexpected. This class is a comprehensive personal finance course for those in the early stages of retirement or those about to retire. Alex Overkamp of Sentinel Asset Management L.L.C. is your instructor.
Understanding Medicare I
with Tom Tropiano

Mar 8, 2023 at 6:15 pm

, runs for 1 week
Are you interested in learning about your Medicare insurance plan options to make the best decision possible?  Join us for this no cost educational session to learn about:
Medicare Parts A, B, C and D
How much you can expect to pay for specific services
The Medicare "donut hole"
Enrollment "how to's"
All these topics will be addressed and time for your questions so you will have the information to make informed decisions regarding your situation.  This information session is provided by Tom Tropiano, a local independent certified insurance agent.
Your Life and Your Money in Retirement
with Mark Church

Mar 28, 2023 at 6 pm

, runs for 2 weeks
For those at the moment of retirement – two years away or currently transitioning to or living in retirement. Mark Church will highlight strategies and action steps to make you feel confident in the transition while also understanding the balance between guaranteed and non-guaranteed products you may want to purchase.