Filter by Category
In-House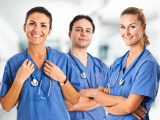 Registration Unavailable
Certified Medical Assistant Program

Sep 24, 2019 at 6 pm

, runs for 5 weeks
This program prepares students to assist physicians by performing functions related to the clinical aspects of a medical office. Instruction includes preparing patients for examinations and treatment, routine laboratory procedures, pharmacology, taking and documenting vital signs, technical aspects of phlebotomy, the 12-lead EKG and cardiac life cycle. Program also includes an optional clinical externship at a local provider.
Registration Unavailable
Pharmacy Technician Program

Sep 24, 2019 at 6 pm
This comprehensive 50-hour course will prepare students to enter the pharmacy field and take the Pharmacy Technician Certification Board's PTCB exam. Technicians work in hospitals, home infusion pharmacies, community pharmacies, and other healthcare settings - working under the supervision of a registered pharmacist. Course content includes medical terminology specific to the pharmacy, reading and interpreting prescriptions, and defining drugs by both their brand and generic names.
Students will also learn dosage calculations, I.V. flow rates, drug compounding, dose conversions, dispensing of prescriptions, inventory control, billing, and reimbursement procedures.
Total Course content hours - 130 hours (50 content hours and 80 externship hours)Fee: $1,299.00 (Textbooks and externships are included)
Tuesday and Thursday evenings
February 12, 2019 - April 2, 2019        
6:00 p.m. - 9:30 p.m.
This course requires a high school diploma or GED certification to enroll. All technical certification program applicants should also have taken math and science classes in high school.  Payment must be made at the time of registration. There is no financial aid available at this time.