For Fun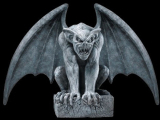 Registration Unavailable
An Education in the Grotesque: The Gargoyles of Yale University
with Mathew Duman

Apr 4, 2017 at 6:30 pm
, runs for 1 week
Join photographer and author Mathew Duman for a lecture and then a tour of Yale University in New Haven. Yale is an extraordinary place where you can observe gargoyles in their natural habitat! On this trek, Matt points out many of the grotesques & gargoyles that originally inspired him to explore the campus and to write his book: Those who have never been will find a visit to Yale's campus (60 - 90 minute tour ) to be a fascinating combination of academics, hisory, art and architecture. Those who are familiar wit the campus will find that there are still many discoveries yet to be made because many of these sculptures still go unnoticed by even the most dedicated Yale. Either way, searching out these works of art can be almost as much fun as appreciating them. Binoculars recommended!
Registration Unavailable
Dog Manners do Count
with Bryony Aviles

Apr 13, 2017 at 6:30 pm
This class taught by Bryony Aviles of Sandy Paws LLC will cover basic dog manners and obedience behaviors, including sit, down, stay and loose leash walking. Your dog will learn to work with you in a distracting environment and you will learn to better communicate with your dog. Problem behaviors such as jumping, barking,and pulling on leash will be addressed too. Dogs 5 months+ welcome. All dogs must be up-to-date on vaccinations and proof of vaccines will be required. If your dog has ever bitten a person or another animal or lunges/growls/barks at people or dogs, group class may not be the right fit for your dog. Please contact us to discuss whether your dog is appropriate for this class.
Registration Unavailable
Literary Discussion with LGBT Author Jean Copeland
with Jean Copeland

Mar 30, 2017
, runs for 1 week
Join award-winning local author and East Haven Adult Ed Creative Writing instructor Jean Copeland for a reading and Q & A of her debut novel, The Revelation of Beatrice Darby, a 2016 GCLS Goldie Award winner, and her recently released second book, The Second Wave. Ms. Copeland will have signed copies of her novels for $15 each or both for $25. Admission is free.